If you would have asked me many years ago, what was the best app on my mobile phone? I would never have said Audible.
The answer would of most likely been Facebook or Instagram!
Which is the best way to throw away your precious time and energy.
But now years later and well into my spiritual journey, and understanding the phrase Knowledge is power.
For the past five years, I've been using Audible as my main app and go-to for audiobooks.
Between commuting to and from work and getting ready for bed, I listen to an average of two to three hours every day.
I absolutely love listening to books while doing other things, so I can keep my mind occupied with something else that isn't boring, like cleaning or cooking.
It's also a great way to get through a mental block or make it through a long day.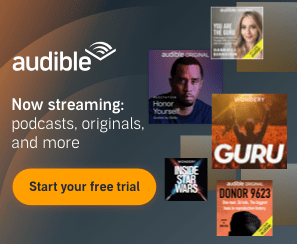 Audible has revolutionized the way we get our information today by making it convenient and quick to listen from anywhere and anytime.
With a wide range of options ranging from books, magazines, newspapers, and radio programs to audiobooks and spoken audio,
they provide all sorts of entertainment options that can be listened to while you're commuting or in your spare time.
In addition, with their easy-to-use app that syncs seamlessly with your devices so you can listen on the go or even offline!
What is Audible?
Audible is an online service that provides you with access to audiobooks from the comfort of your home.
You can download audiobooks on any device including smartphones, tablets, computers, or even smart TVs.
Not only does this help you to save money, but it also helps you stay inside your favorite book.
This online service offers more than 120 million titles that are available at no cost!
Nowadays when people want to relax they turn on their TV and watch something entertaining.
There's nothing wrong with that except that Audible allows us to read while we watch which is so much healthier than watching TV.
But if reading a book is more appealing than watching TV tonight then sign up for it now!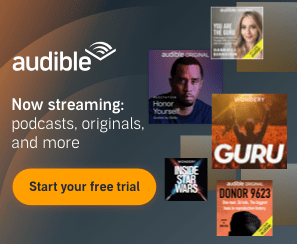 Why should you sign up for Audible?
Audible offers a wide range of reading material from all genres and subjects.
If you're looking for something entertaining to read then you'll be able to find it on Audible.
Whether you're looking for a novel or a non-fiction book, or spiritual knowledge this service has it all.
In addition to being able to choose from a wide variety of books, Audible also has audio programs for your listening pleasure.
So if you want to listen to a podcast while you work out, commute on public transportation, or even while doing chores around the house then you can do so with a subscription to Audible.
While many people think audiobooks are just for people who are visually impaired, they're not!
Audible has something for everyone and there's no reason not to try it out. Just sign up and start listening today!
What are the benefits of using the app?
When you're on the go, keeping up with your favorite book can be difficult.
Audible's app helps to make this process easier.
It allows you to switch between devices or listen to a downloaded audiobook anywhere.
This means that you won't have to worry about missing an important part of the story because you had to take a phone call or answer a text message.
The app also lets you know when new audiobooks are available and lets you download them so you'll always have access to your favorite books, whether it's at home or on the go!
Another benefit of using the app is that it won't interrupt your TV-watching experience.
If someone tries to watch something else while I'm listening, then my brain doesn't have to switch gears every time I hear an auditory cue.
Plus, it also has a sleep timer so when I'm done with my book I can put my phone down and shut off all distractions without turning off the volume or ending my story in the middle of a chapter!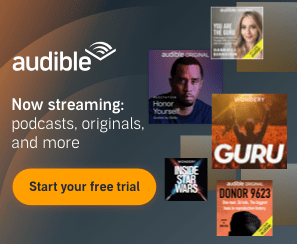 The mobile app
The Audible app is free for iOS or Android and allows you to download the audiobook on any device.
This way, even if you're on the go and don't want to carry around an entire book with you everywhere you go, stay entertained wherever you are with just your phone!
If you're looking for more ways to keep your brain healthy without breaking the bank, then audible is just what you need
How to use the Audible App.
Audible is one of the best apps for audiobooks.
There are so many different ways to listen to audiobooks that it can be a little overwhelming.
First, you'll need to download the app from the iTunes Store or Google Play Store. It's available for free on both Android and iOS devices!
Next, open the app and log in with your email address and password.
Then, select "My Library."
The My Library page shows all of your current books and where you left off in your last reading session.
If you're looking for new books to read, search for a book based on your interests–romance, spirituality, mystery, sci-fi, history–or browse by genre or ratings.
You can also filter by language spoken or the narrator's gender.
Once you've found a book that looks interesting, tap on it to learn more about it!
You can see a summary of the book and if there are any reviews that have been left by other users.
If there aren't any reviews yet or if you want to leave one yourself, tap on "Write a Review."
Conclusion
Audible gives you access to over 150,000 audiobooks that you can download either on your phone, tablet, or computer.
They also offer a mobile app that is compatible with all of your devices.
This is a great way to get your hands on some quality content.
Audible's subscription service costs $14.95 a month for the Premium Plus or $7.95 for the Plus which is an amazing offer.
If you sign up today you will get a complimentary 30-day trial.
The subscription service also gives you 24/7 check out and the ability to download up to two books at once.
So what are you waiting for! Click the Link Below And Get Your Complimentary 30 Day Trial From Audible.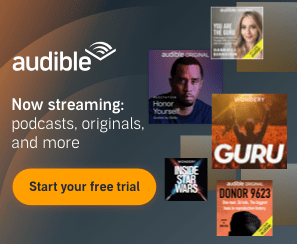 Related Page: Here Is A Collection Of My Favorite Self-Help Books, That I Highly Recommend, They have Been An Important Tool In My Own Healing Journey